Diving Into Overuse in Hospitals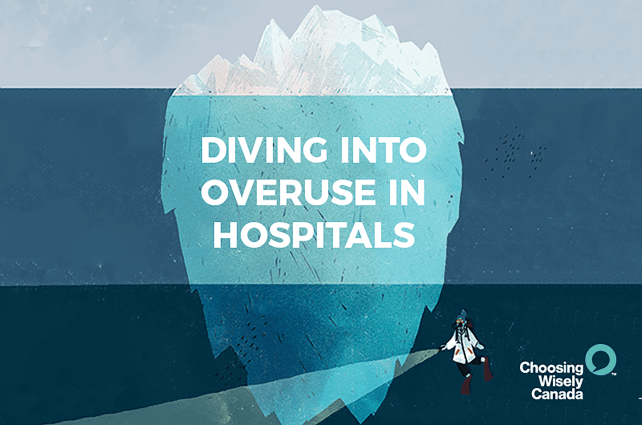 Did you know that up to 30% of tests and treatments in many clinical areas are potentially unnecessary according to a 2017 report from the Canadian Institute of Health Information and Choosing Wisely Canada?
Choosing Wisely Manitoba is a proud supporter of the Diving into Overuse in Hospitalscampaign, led by Choosing Wisely Canada. Diving into Overuse in Hospitals is a campaign that aims to encourage hospitals to join the global Choosing Wisely movement by making changes, big or small, to reduce overuse.
Unsure if your hospital as an overuse problem? Ask yourself these five basic questions:
Does my emergency department order both PT/INR and aPTT tests as a bundle?
Does my hospital still use CK testing to diagnose a heart attack?
Are inpatients at my hospital getting daily blood tests automatically?
Does my hospital still test serum & red blood cell folate levels?
Does my ICU still order routine chest x-rays for all patients?
A 'yes' answer to any of these questions means your hospital has an overuse problem. We encourage your and your clinical leaders to download Diving into overuse in Hospitals: A Starter Kit for Reducing Unnecessary Tests and Treatments, which offers practical advice and guidance on implementing Choosing Wisely recommendations into hospital settings. You are also invited to join the launch webinar on January 31st, 2019 at 11 AM to learn more about the Starter Kit and hear from other hospitals in various stages of implementing it.
It is critical for clinicians to use evidence-based guidelines and practices to avoid preventable harm to patients, lengthy wait times, and the over-consumption of precious hospital resources. There are currently over 300 Choosing Wisely Canada recommendationsregarding, tests, treatments, and procedures that clinicians and patients should question, many of which pertain to the hospital setting. These recommendations have been put together in partnership with over 70 professional societies.
Visit choosingwiselycanada.org/campaign/hospitals/ for more information.