Happy Pharmacists Awareness Month!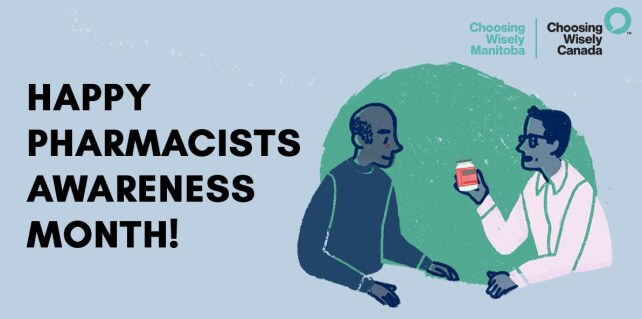 Pharmacists play an integral role in patient care by providing safe and effective medication management. Each March, Pharmacists Awareness Month recognizes the important contributions pharmacists make to Canada's health care system.
Choosing Wisely Canada worked with the Canadian Pharmacists Association to develop six Choosing Wisely recommendations that encourage healthy conversations between pharmacists and patients.
Here are six things pharmacists and patients should question:
Don't use a medication to treat the side effects of another medication unless absolutely necessary.
Don't recommend the use of over the counter medications containing codeine for the management of acute or chronic pain. Counsel patients against their use and recommend safe alternatives.
Don't start or renew drug therapy unless there is appropriate indication and reasonable expectation of benefit in the individual patient.
Don't renew long-term proton pump inhibitor (PPI) therapy for gastrointestinal symptoms without an attempt to stop or reduce (taper) therapy at least once per year for most patients.
Question the use of antipsychotics as a first-line intervention to treat primary insomnia in any age group.
Don't prescribe or dispense benzodiazepines as a first-line intervention to treat primary insomnia in any age group.
Pharmacists aren't the only ones who can Choose Wisely when it comes to medication management and prescribing. Choosing Wisely Canada runs a variety of campaigns to encourage all health care professionals to take leadership in reducing unnecessary tests, treatments, procedures and prescriptions:
Opioid Wisely is a national campaign that encourages thoughtful conversations between clinicians and patients to reduce harms associated with opioid prescribing.
Using Antibiotics Wisely is a campaign to help reduce unnecessary antibiotic use.
For more information on these recommendations and campaigns and to find out how you can get involved, visit choosingwisely.ca.