Dr. Andrea Kulyk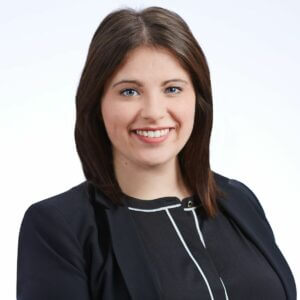 "It is so important to start good habits early. Starting your medical career off with resource stewardship in mind helps doctors make decisions that are both safe and appropriate for patients. Resource stewardship is something you will encounter every day of clinical practice, it affects patients, outcomes and resource utilization."
It was this thought that launched Dr. Andrea Kulyk's Choosing Wisely Manitoba resource stewardship project in 2015. Now in her second year as an internal medicine resident at the University of Manitoba Rady College of Medicine, Andrea is a champion of Choosing Wisely Manitoba and resource stewardship education.
Andrea first learned about Choosing Wisely during her second year of medical school at the University of Manitoba, "They talked about Choosing Wisely and I really liked the message. It wasn't just about cost savings, it was about patient safety and sustainability within our medical system."
Andrea was encouraged by the Choosing Wisely resource stewardship education materials that existed in the curriculum but wondered if there was a chance for more. After looking at the first and second year Undergraduate Medical Education curriculum, Andrea and fellow medical student Youn Tae Chung established their resource stewardship research project. They created specific teaching points that were added to first and second year medical courses, with a goal of increasing awareness of resource stewardship among students.
After implementation, Andrea and Young Tae measured the effectiveness of the enhanced resource stewardship material, "We did a before-and-after survey to see if students' knowledge or opinions had changed, if awareness had increased. We were so happy with the results, the attitude section had significant changes; students were more familiar with and had more positive attitudes towards resource stewardship and Choosing Wisely after."
Since their project, each year of Choosing Wisely Manitoba STARS have continued their efforts by updating the education pieces implemented in the curriculum by Andrea and Youn Tae- the students even extended the reach by hosting events like the 2018 'Resource Stewardship Night' where students utilized resource stewardship case studies to act out and learn from scenarios between patients and providers.
"Resource stewardship is about having a conversation. It's about asking questions, asking why things are being done a certain way. All allied health care members work together for their patients, it's important we ask each other questions and suggest what we believe is best for the patients."
So, if you're a student interested in resource stewardship or you have an idea you want to run with- "Do it!" says Andrea, "You can start by reaching out to the STARS students, they have connections and knowledge. You can also contact Choosing Wisely Manitoba at choosingwiselymanitoba.ca"