Dr. Richard Rusk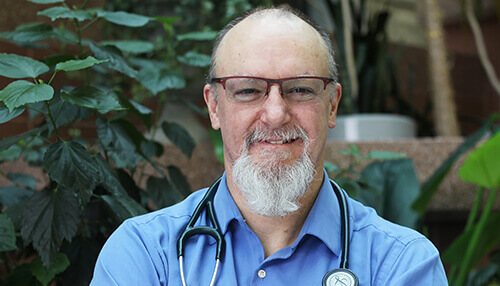 I'm passionate about antimicrobial stewardship because the evidence is strong: using antibiotics when you don't need them increases the risk of antibiotic resistance, which renders antibiotics ineffective when you need them in the future. If we do not start changing our practice in antibiotic use now, we could be faced with a serious medical crisis. Our future depends on it, as well as the future of our kids and grandkids.
Antimicrobial stewardship is incredibly complex, which is why we must work as a team to find solutions. Fortunately, with Choosing Wisely and campaigns like Using Antibiotics Wisely, the antimicrobial stewardship movement is picking up steam and awareness is growing. For instance, Dr. Sergio Fanella and his team at Children's Hospital – HSC Winnipeg implemented a very successful pilot project that reviewed the use of antibiotics for every child. Clinicians, specialists and pharmacists worked together to determine whether or not prescribing antibiotics would lead to better health outcomes. Eventually, reviewing and thinking about antibiotic prescribing became part of daily practice.
There are also some community-based projects, which are important since over 90 per cent of antibiotics are prescribed in the community setting. Dr. Ganesan Abbu championed antimicrobial stewardship in the Boundary Trails Health Centre in Morden/Winkler, and as a result local clinicians in the area are far more aware and far more conscientious about the appropriate use of antibiotics in their practice.
This progress is uplifting because if we are not stewards now and if we do not remain vigilant and diligent about how and when we are prescribing antibiotics, we are putting our patients at risk. If bacteria is repeatedly challenged, i.e. with antibiotics, science shows us that it will respond by developing a resistance against antibiotics as part of its natural course.
The serious implications of antibiotic resistance are the reason why I advocate for antimicrobial stewardship. As the co-chair of the Federal Antimicrobial Stewardship working group, we are working to move policy, education, and decision making at a higher level to effect change. Antimicrobial stewardship should be driven from the top. Choosing Wisely is a key component to this process because it provides evidence-based recommendations and tools for more than 15 different clinical specialties that can be integrated into every day practice.
Educating both clinicians and patients about the appropriate use of antibiotics is also critical in facilitating change and shifting social expectations. Another reason why Choosing Wisely is incredibly valuable is because it encourages patient engagement and supports healthy conversations between patients and their health care providers about appropriate antibiotic use. Not only do these discussions lead to better health outcomes, but they also help grow the antimicrobial stewardship movement.